The superb natural feel of a real piano action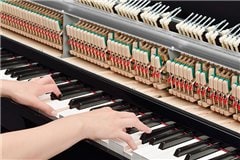 The NU1X represents the next evolution in hybrid piano technology melding the Yamaha pedigree of unparalled piano craft with progressive digital innovation. Employing a real acoustic upright piano action that intuitively connects player and piano, the NU1X offers a gratifying dynamic experience. The result is an instrument that not only pays tribute to its acoustic counterpart but exceeds all expectations.
Legendary Piano Samples

To play an AvantGrand means access to the actual sound profile of two legendary concert grands: the Yamaha CFX and the Bösendorfer Imperial. Whether you prefer the bold, expansive palette of the CFX, or the warm, rich Vienna tones of the Imperial, switching between the two is simple.
The authentic feel of a grand piano pedal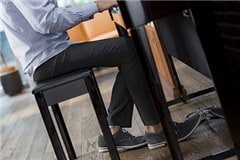 The NU1X features a damper pedal that recreates the subtle changes in resistance experienced when using a grand piano pedal. What's more, the NU1X's damper pedal allows you to use the same half-pedal techniques that you would with a grand piano, offering detailed control over sustain and reverberation.
A fully immersive headphone experience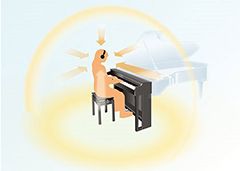 Headphone connectivity wasn't just an added formality for the NU1X. Thanks to our advanced binaural sampling technology, the sound you hear through your headphones is remarkably lifelike. This technology uses piano samples recorded by specialized microphones that capture locational information and other nuances discerned by the human ear. The resulting sound is so natural, so enveloping, that you'll soon forget you're even wearing headphones at all. (CFX Grand Voice only)
An elegant complement to any room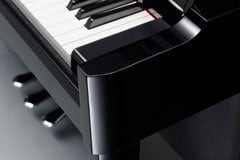 The elegant simplicity of the NU1X blends effortlessly into any setting, adding an air of distinction without being imposing. Inheriting the superb sound and playability of the AvantGrand series of pianos, the NU1X offers the warmth and natural presence of an acoustic instrument in a stylish, compact form.
Intelligent UX and Integration
Behind its simple control panel, the NU1X hosts an abundance of connectivity options for maximum functionality and integration with external devices. It can be connected directly to computers and mobile devices via USB, sound and recording systems via audio cables, act as a Bluetooth receiver, and integrate with iOS apps via WiFi.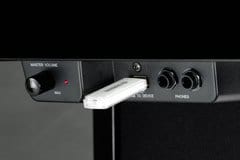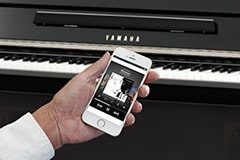 Other Feature of Firmware V2.0
Now compatible with USB Audio/MIDI. Just connect with a single USB cable for audio/MIDI playback with a PC or iOS device.
This allows you to record to, for example, Steinberg Cubase series products as audio or MIDI, without purchasing an Audio/MIDI interface separately.
*Cubase series software is not bundled with this firmware, and must be purchased separately.