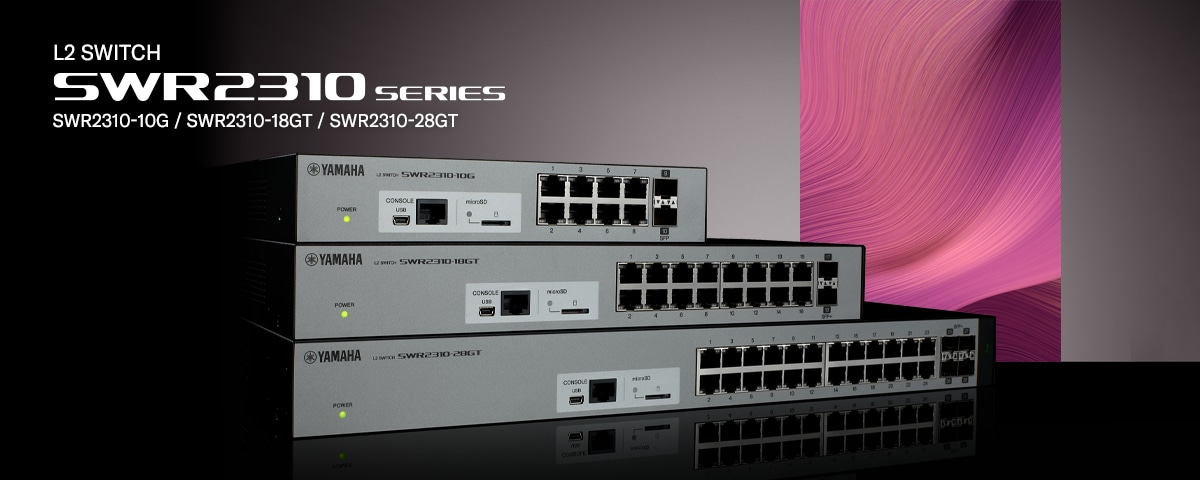 10Gbps Supported Multi-port Models for Solid Backbone Performance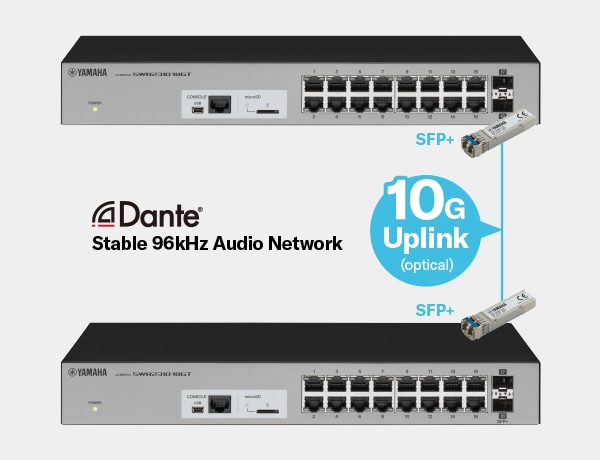 10Gbps Supported Multi-port Models for Solid Backbone Performance
With high port counts and 10G uplink ports that can be used to transfer multichannel 96 kHz data over extended distances, the SWR2310-28GT and SWR2310-18GT switches have been designed to support safe, stable network operation in system backbone applications. Optional SFP-SWRT-SR and SFP-SWRT-LR small form-factor pluggable modules allow reliable long-distance communication of multiple channels of 96 kHz audio data, up to a maximum of 10 kilometers with the SFP-SWRT-LR, significantly enhancing performance, dependability, and flexibility for commercial installations, theaters, stadiums, and other large-scale installations.
One-click Dante Optimization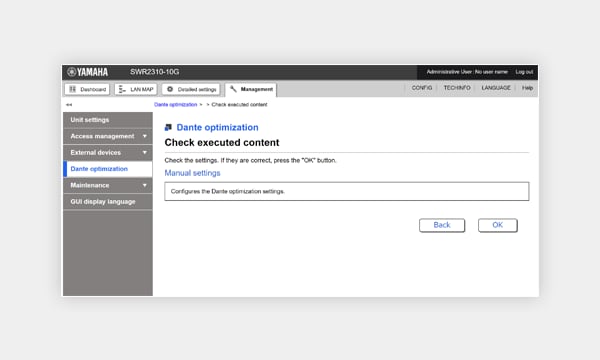 One-click Dante Optimization
IGMP and QoS settings for SWR series switches can be automatically optimized for Dante network operation by simply clicking the "Dante optimization" button in the web-based GUI. These network settings are not critical in simple systems, but proper configuration is essential to ensure maximum stability in larger Dante networks.
Intelligent Security Management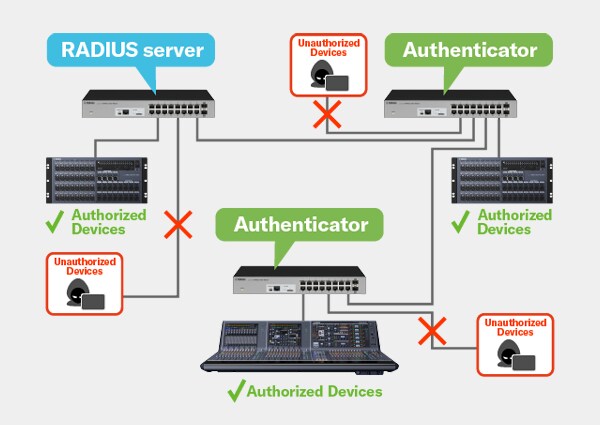 Intelligent Security Management
Augmenting the VLAN functionality included in the SWR2310 series is built-in RADIUS server function. By setting up one switch as a RADIUS server and linking other switches to it, unauthorized network access can be effectively blocked for enhanced security, even in complex large-scale installations. Device authentication can be set up quickly and easily via a web-based GUI.
Network Visibility and Smart Management (Yamaha LAN Monitor)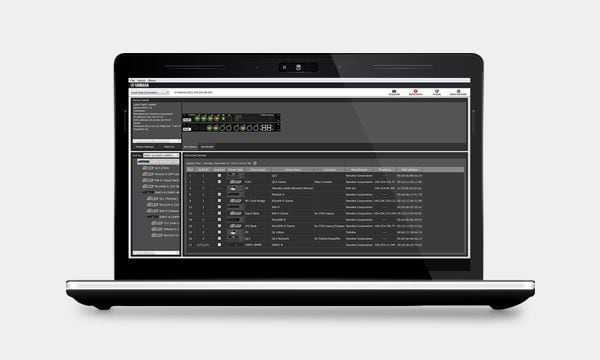 Network Visibility and Smart Management (Yamaha LAN Monitor)
Effective Dante network management hinges on a range of parameters such as network traffic, switch status, and individual Dante device information. The dedicated Yamaha LAN Monitor computer application provides a comprehensive single-screen view of all necessary parameters when used with SWP/SWR/SWX series switches. We refer to this type of graphical overview as "network visbility." You can even take a snapshot of the normal network status and set an alarm to warn you if any of the parameters changes, so that problems can be identified and resolved quickly and easily. The Dante Controller application can also be launched from the Yamaha LAN Monitor with a single click, providing a total Dante network solution on a single computer.
Options for Flexible System Design and Installation
A number of options are available for the SWR series, including rack-mount and wall-mount brackets that facilitate mounting in a variety of locations, and SFP modules that allow long-distance communication for flexible overall system setup and installation. The chart below lists the options that are available for each SWR switch model.
Accessories →
Switches ↓
SFP-SWRT-LR
(SFP+ module)
SFP-SWRT-SR
(SFP+ module)
SFP-SWRG-LX
(SFP module)


SFP-SWRG-SX
(SFP module)
DAC-SWRT-3M
(Direct Attached Cable)
DAC-SWRT-1M
(Direct Attached Cable)
RK-SWR
(Rack-mount)
WK-SWR
(Wall-mount)
SWX3220-16MT
SWX2320-16MT
SWR2310-28GT
SWR2310-18GT
SWR2310-10G
SWR2311P-10G
SWR2100P-10G
SWR2100P-5G
* Rack-mount brackets are included in SWR2310-18GT / SWR2310-28GT
Rack-mount installation (SWR2310-10G + RK-SWR)
Wall-mount installation (SWR2310-18GT + WK-SWR)
* With WK-SWR the unit is mountable on the wall or ceiling with a height of 2m or less
* Do not install with the LAN ports facing upward or downward