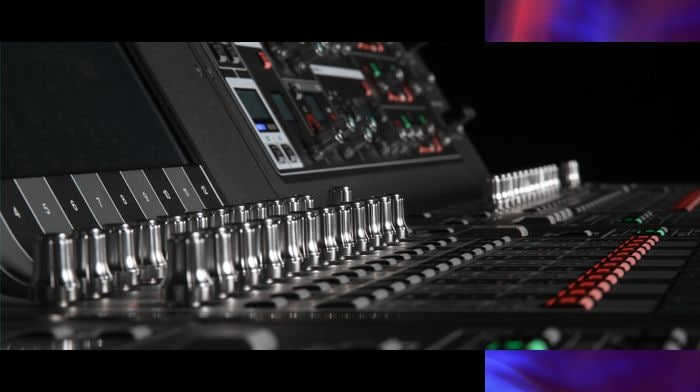 Designed and Refined for Sonic Perfection
The ideal starting point for creative audio engineering is transparent, uncolored sound. All Yamaha mixers are built on that philosophy, with the goal of allowing engineers to capture the on-stage sound accurately, without coloration, and then add creative touches as required. The merits of Yamaha's unwavering adherence to this concept are evident throughout the RIVAGE PM series.
The foundation is Hybrid Microphone Preamplifiers with analog input stages that take the Yamaha "natural sound" concept to new heights, as well as digital sections with immaculate VCM-technology models of Rupert Neve Designs transformer and SILK processing circuitry that offer outstanding musicality and atmosphere. Add the latest refinements in channel EQ and dynamics, and you have extraordinary creative scope.
The built-in plug-ins that support creative sound engineering have also evolved, many through close alliances with other manufacturers that are leaders in their respective fields. Collaboration with RND (Rupert Neve Designs) and the use of Yamaha VCM technology has resulted in flawless recreations of prized equalizers and compressors from the 70s and 80s. There are also impeccable models of Eventide harmonizer and reverb effects that could only have been created through cooperation with the original manufacturer.
All of this has been implemented in the RIVAGE PM series to give engineers the tools they need to deliver the highest quality, most musical sound possible.
Two Types of I/O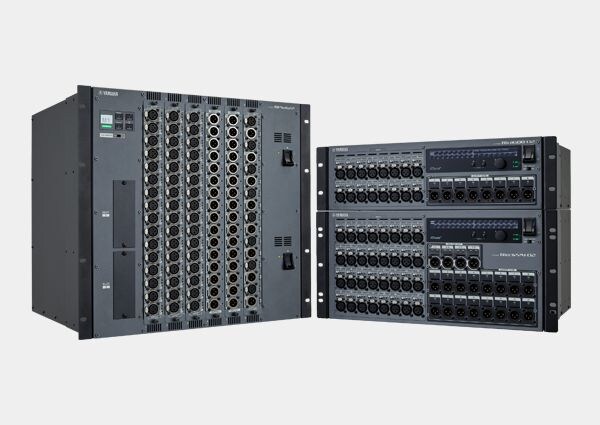 Input circuitry and processing are critical to achieving a high level of sonic quality. The output end of the signal chain plays an important role in maintaining that quality too. Yamaha offers two types of high-performance I/O Rack units for RIVAGE PM system input and output, each providing compatibility with a different audio network.
One of those networks is TWINLANe, capable of carrying up to 400 audio channels via optical cable. The RPio622 and RPio222 I/O racks are TWINLANe devices, as are the HY256-TL and HY256-TL-SMF audio interface cards. The RPio622 and RPio222 I/O racks include Hybrid Microphone Preamplifiers with high-performance analog input stages, plus advanced digital sections that include accurate emulations of Rupert Neve Designs transformer and SILK processing circuitry.
Audinate Dante network compatibility, a standard feature in many other Yamaha consoles and pro audio products, is also available. The Rio3224-D2 and Rio1608-D2 I/O Racks and the HY144-D audio interface card are Dante ready, and can be combined to provide natural sound input with any RIVAGE PM series system. Either network solution is capable of capturing the sound being created on stage, without coloration and with every nuance intact, allowing the engineer to use the creative capabilities of the RIVAGE PM series to reach the audience with maximum impact.
Channel EQ and Compression Refined to Unprecedented Levels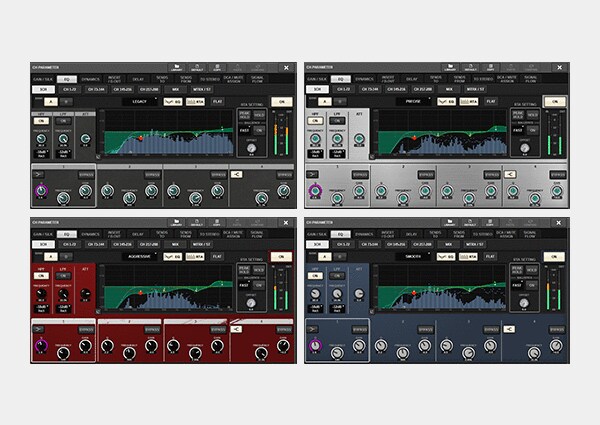 The RIVAGE PM channel EQ and dynamics have also been significantly updated and fine-tuned to match the innovations in the input section. The input channels feature 4-band full parametric EQ, while the output channels are equipped with 8-band full parametric EQ, with 4 algorithm types that include newly developed variations. The "Precise" algorithm makes it easy to target and control specific EQ points, the "Aggressive" algorithm is designed for the most musical response, and the "Smooth" algorithm offers smooth, natural control. There's also a "Legacy" algorithm that provides the familiar feel and response of the equalizers provided in industry-standard Yamaha digital consoles such as the PM1D and PM5D. The "Precise" algorithm includes Q parameters on the low and high shelving filters that allow filter overshoot to be flexibly controlled for added musical impact. Two dynamics stages are provided, each functioning as a gate, two types of compressor, ducker, or de-esser as required. The two compressor types are "Legacy Comp," inheriting the characteristics of the standard compressors in Yamaha digital consoles, and "Comp260," which is a beautiful VCM model of a popular analog comp/limiter from the mid 70s. The latter accurately models the characteristics of the VCA circuit and RMS level detector used in the original device, with the effect of each parameter fine-tuned for optimum effect in live-sound applications. Presets that recreate the original fixed settings of this classic comp/limiter are also provided for convenience in situations that require the original sound.
An Extraordinary Selection of Plug-ins
Processing quality has always been a major strength of Yamaha digital consoles. The RIVAGE PM series offers a comprehensive selection of plug-ins, including models of in-demand classics. The RIVAGE PM series includes over 50 plug-ins, and ample processing power allows up to 256* instances of complex plug-ins such as the Portico 5033 or Portico 5043 to be used simultaneously. There are also the Eventide H3000 Ultra-Harmonizer and a new SP2016 reverb with a large selection of presets, Dan Dugan automatic microphone mixing, and more. These contributions from distinguished third parties complement a range of original Yamaha plug-ins, adding extraordinary versatility and processing power that give the engineer wide-ranging creative freedom.
* With DSP-RX-EX
Bricasti Reverb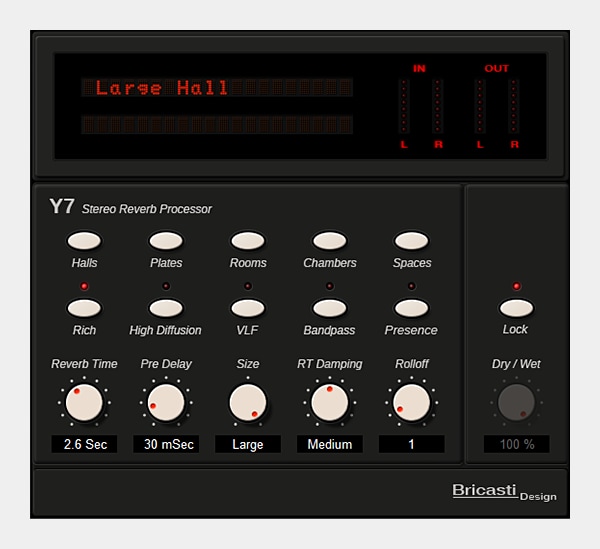 Bricasti Design is known for being the world's premier manufacturer of hand crafted, hardware digital reverbs.
The Y7 is specifically designed for use in the Yamaha RIVAGE PM mixing systems, bringing to the live market a Bricasti product, one that is intergraded in the console for simple, fast, and familiar operation, and to bring the renown "Bricasti Sound" to users of the Yamaha products.
RND Portico Plug-ins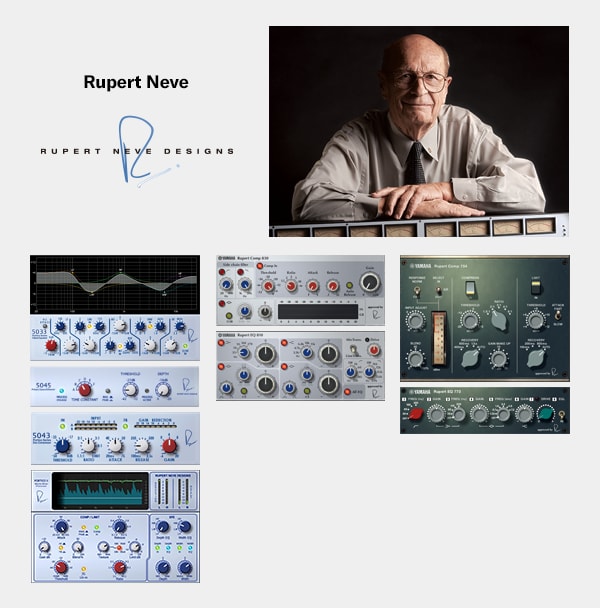 Although the SILK processing simulation created in cooperation with RND is an important part of the RIVAGE PM system, it is by no means the only product of that fruitful relationship. In addition to the well-known and highly acclaimed Portico 5033 EQ and 5043 compressor, RIVAGE PM systems include the easy-operation Rupert Neve Designs Portico 5045 Primary Source Enhancer that effectively suppresses background noise at microphone inputs for enhanced clarity while significantly increasing the feedback margin, making it a valuable tool for live sound in houses of worship, stadiums, halls, and other environments where feedback can be problem.
Added with V5.0, Portico II Master Buss Processor is a creative tool that redefines the boundaries and limitations of traditional 2-channel compression and limiting. From mixing bass-heavy EDM to a delicate master of a chamber ensemble, it has something to offer everyone – no matter the use or genre.
Dan Dugan Automatic Mixer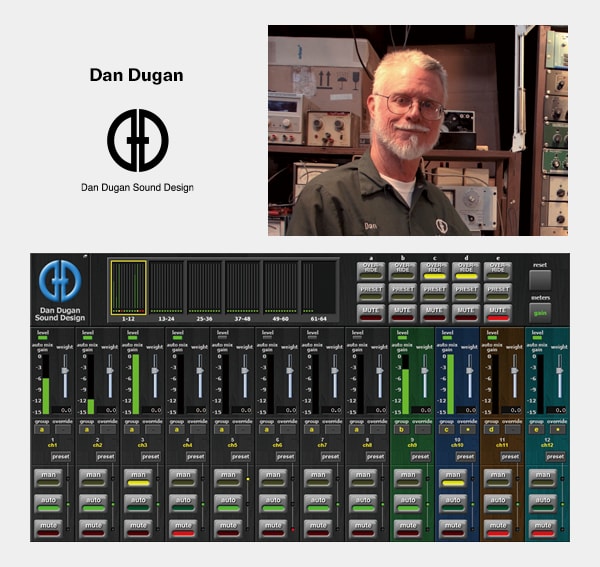 Through in-depth collaboration with Dan Dugan Sound Design, renowned Dan Dugan automatic microphone mixing with its advanced algorithms is built into the RIVAGE PM series digital mixing systems. Setup is easy: just insert the processor into up to 64 channels for automatically optimized microphone gain distribution. Gain control is smooth and natural, as though experienced human operators were doing the mix. The system also effectively reduces feedback and comb filter issues. For speech applications, especially non-scripted situations, this allows the operator to concentrate on details other than fader operation for consistently highquality mixes.
Eventide Effects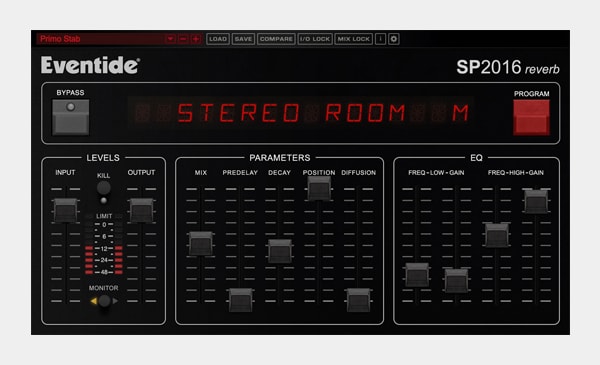 The Eventide name is legendary in the effects field. The acclaimed H3000 Ultra-Harmonizer and a new SP2016 Reverb plugin added in version 4.0 are available throughout the RIVAGE PM series. In addition to a full range of parameters that can be edited to precisely tailor the effects for any need, the SP2016 features a large selection of presets that make it quick and easy to call up an ideal reverb sound.
Yamaha DaNSe Noise Suppression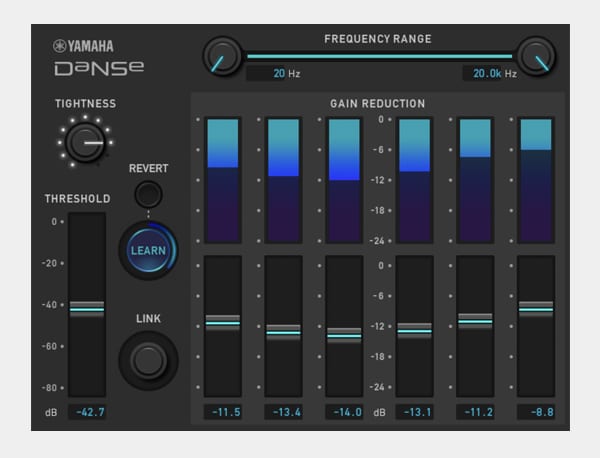 The RIVAGE PM series includes a range of original Yamaha plug-ins that are extremely powerful too, including the DaNSe Noise Suppressor. The "DaNSe" plugin analyzes noise frequency characteristics and employs a learn function to automatically achieve the most effective noise suppression without the need for any complex setup or programming by the user. Effective noise suppression can be a huge advantage for plays and musicals, significantly enhancing audio clarity. DaNSe can suppress air conditioning noise and noise produced by cooling fans in on-stage moving lights. It can reduce monitor bleed to on-stage instrument mics, and suppress crowd noise during announcements and sports events. It is a highly effective and widely applicable noise suppression tool.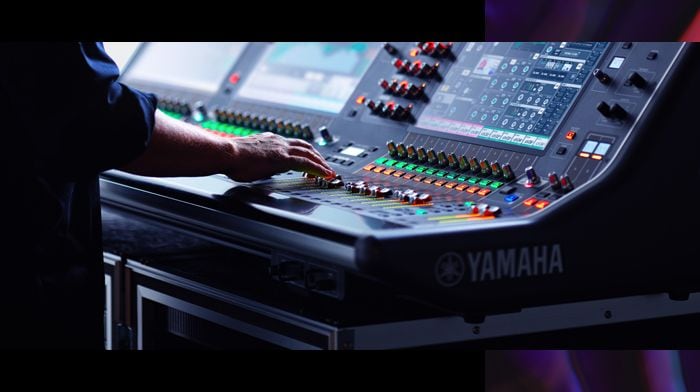 Polished to Offer Confidence and Comfort
Yamaha has always focused on operability in digital live sound consoles, sparing no effort in providing an interface that engineers coming from analog consoles can operate intuitively, while at the same time maximizing the benefits of digital technology and features. RIVAGE PM systems takes that concept to a new level, extending an already familiar and highly rated interface for even greater efficiency and ease in achieving the ultimate sound.
Refined Interface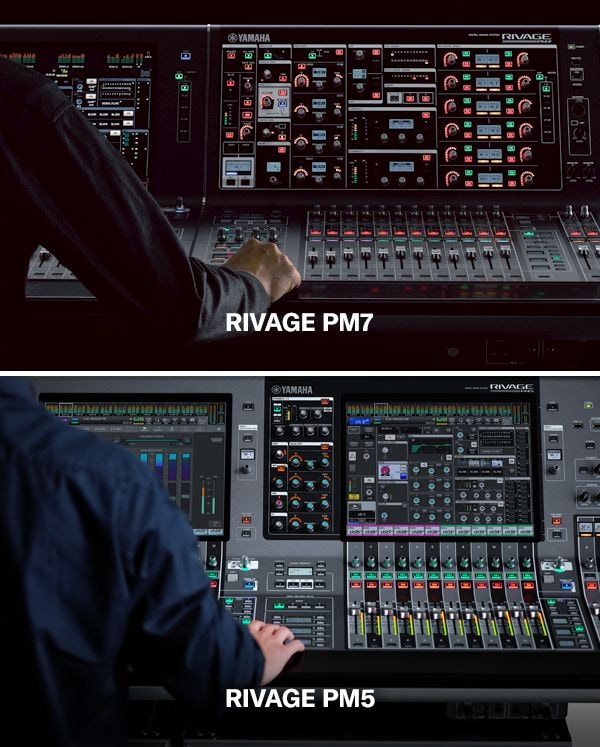 A key element of the RIVAGE PM interface is the industry-standard Yamaha Selected Channel concept, providing direct access to parameters of any channel selected via its SEL key. The Selected Channel section provides direct, fast access to all channel parameters. Encoders, buttons, and indicators are provided in a comprehensive layout that makes maximum use of the available panel space, for comfortable operation in any environment or mixing situation. RIVAGE PM series control surfaces feature three groups of 12 faders to which channels can be assigned as required. Depending on the console, some or all of the fader groups work with large touch-sensitive displays in the top panel, providing an evolved version of the Centralogic operating environment. The channel strips extend vertically and virtually seamlessly into the touch panel displays, for lucid, logical control. In addition to allowing channels to be conveniently managed in 12 channel groups, this configuration also facilitates 2-man operation with different operators handling separate groups.
Updated Send Operation (RIVAGE PM5/3)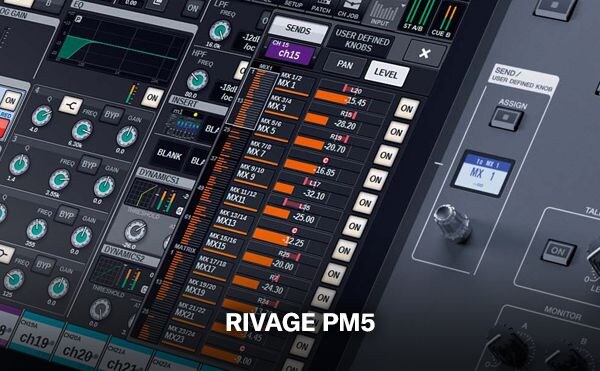 Setting up sends is an important part of just about any live mixing workflow. In addition to the familiar Sends on Fader function, send levels can be controlled from the Send / User Defined Knobs. Send levels shown on the display panels where they can also be adjusted via touch control. This expanded range of control choices greatly enhances convenience and versatility when setting up and tweaking sends.
Easy-reach Layout and Improved Sight Line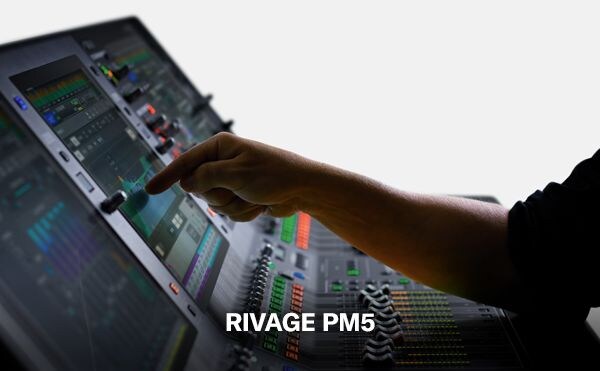 RIVAGE PM console is designed with the touch panel displays and Selected Channel section on a prominently raised upper panel that offers optimum visibility from the engineer's position as well as easy access to all controls. This evolved console design also provides a closer connection to the performers on stage with improved sight lines that give the engineer a broader, more comprehensive view of the action.
A Monitor Section to Match Any Job (RIVAGE PM10/7)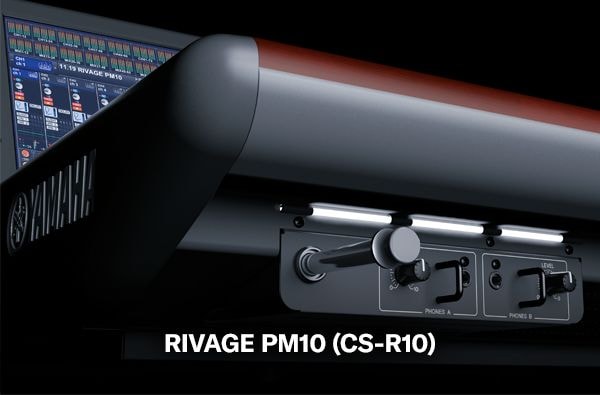 Monitoring flexibility is an important criterion for live sound consoles that must be adaptable to a broad variety of applications. The RIVAGE PM10 and PM7 feature two monitor/cue outputs, with up to eight combinations of monitor sources that can be memorized and selected as required. In addition to independent control of output levels, dedicated delays and 8-band parametric equalization are available specifically for monitor use. It is even possible to insert plug-ins immediately before the EQ stage. All of these features provide the flexibility needed to create optimum monitor setups for just about any situation.
High-visibility Fader Meters (RIVAGE PM5)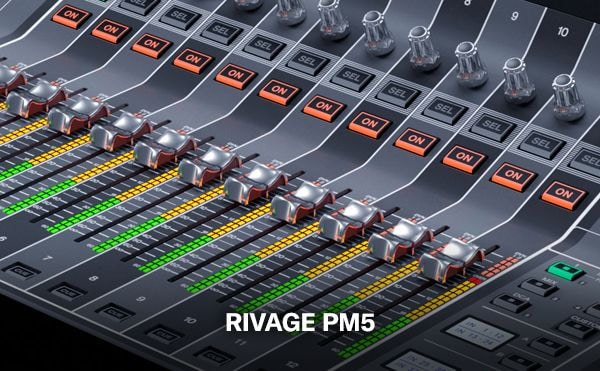 Clear visual feedback is also provided by the meters associated with each fader. The fader meters can display mono or stereo levels, or gain reduction when you want to keep an eye on channel dynamics. The fader meters can contribute to smooth, accurate control by providing direct feedback of how fader operation is affecting the signal.
Genius.lab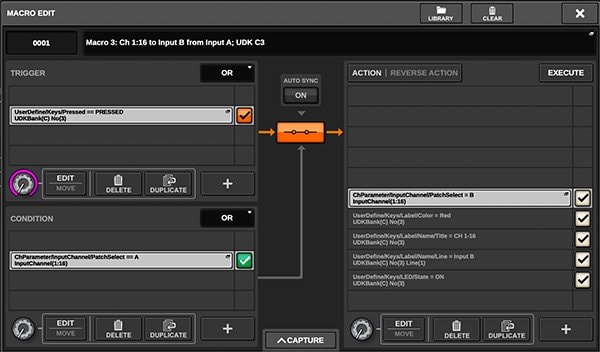 Allowing users to create a wide variety of actions triggered by key presses, fader operations, MIDI messages and more, it gives audio engineers the power to programme events to suit their specific situation and workflow. A huge range of functions can be programmed, with combinations of actions enacted by one trigger.
Innovate your workflow with Genius.lab.
Macro Library, the range of macro presets, helps you start with Ginius.lab.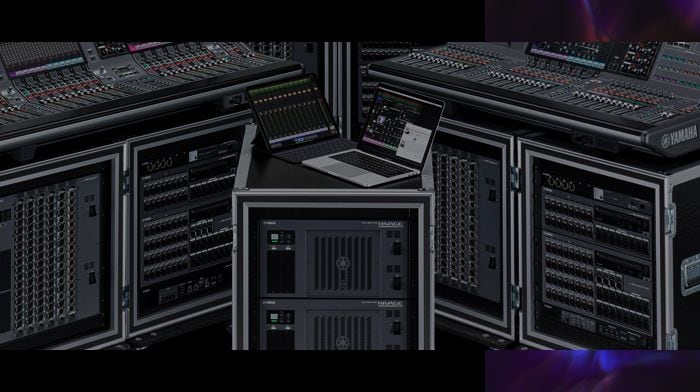 Up to Date and Often Ahead of the Curve
Because evolving applications continually raise new challenges and needs, Yamaha provides continuing support in the form of firmware updates that keep our digital mixers, RIVAGE PM systems included, up to date and often ahead of the curve.
Yamaha Immersive Sound Control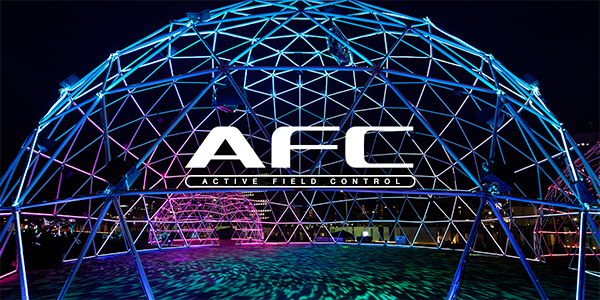 AFC Image is a proprietary immersive sound system from Yamaha gives users full control over sound imaging within a given space. AFC Image provides broad content creation support for theater, opera, concert, installation, event and other applications. Control with RIVAGE PM consoles allows the flexible design of immersive sound systems and the creation of streamlined, efficient workflows.
Wireless receiver integration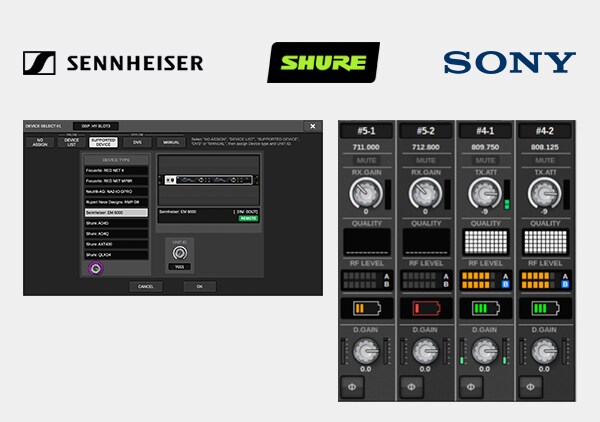 With V5.0 firmware or later, RIVAGE PM consoles support control and monitoring of the highly popular wireless receivers on the market, giving you even more freedom when operating sound systems built around a RIVAGE PM series product.
Supported Device
- Sennheiser: EM 6000
- Shure: AD4D/Q, AXT400, QLXD4, ULXD4/D/Q
- Sony: DWR-R03D
Overlay Filter for Rapid Response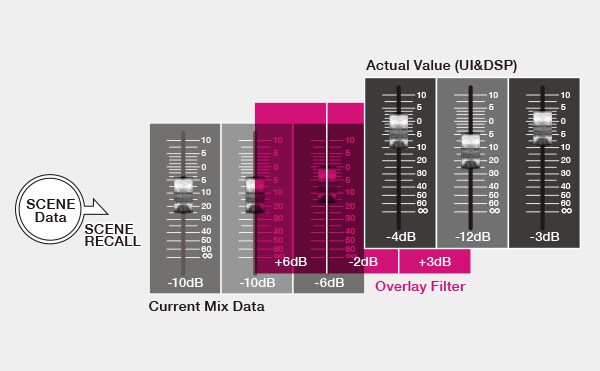 The Overlay filter can notably enhance the usefulness of the console's scene memory. It can be "overlaid" on a current mix to apply offsets to the fader levels and mix/matrix send levels independently from scene recall. This can be useful when an unplanned performer change occurs, for example, facilitating a temporary, relative level adjustment that can be instantly returned to the original level. The Overlay filter will prove its value in situations that require sudden changes plus the ability to easily revert to the original settings.
Theatre Mode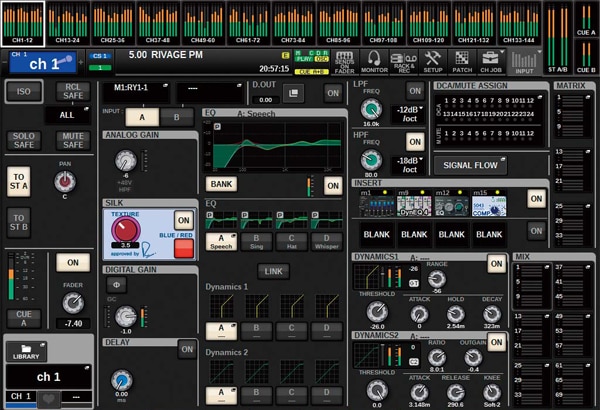 Theatre Mode facilitates scene and costume changes with four banks that can be used to store different EQ and dynamics settings for individual performers. In Theatre Mode, rather than storing EQ and dynamics settings in the console's "scenes," only the bank number is stored so that any adjustments made will apply to all scenes that use the same bank.
This can be used when multiple actors are cast in the same role or when a substitute must be used, allowing faster, more flexible mix changes to accommodate different casts, for example.
DSP Mirroring for Failsafe Redundancy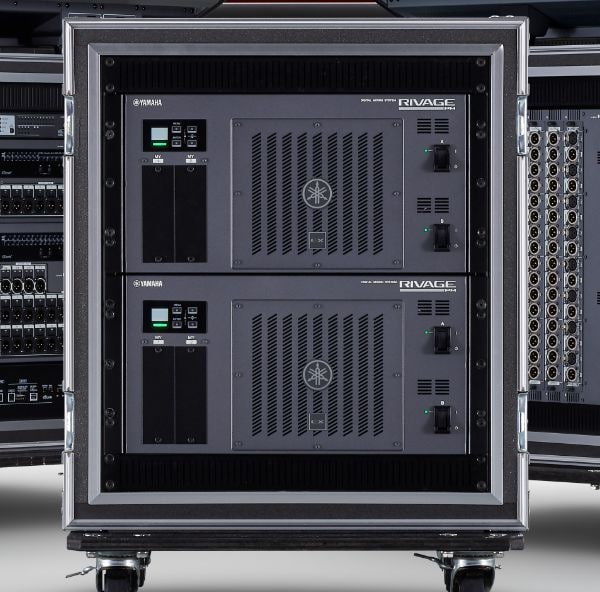 DSP Mirroring allows two DSP-RX or DSP-RX-EX engines to be used for failsafe redundancy with RIVAGE PM10, PM5, and PM3 systems.* If a problem occurs in the main DSP engine, the second DSP engine can take over without disrupting the program.
* The RIVAGE PM7 features integrated DSP processing and does not support DSP mirroring.
Lightweight for Easy Setup and Transportation (RIVAGE PM5/3)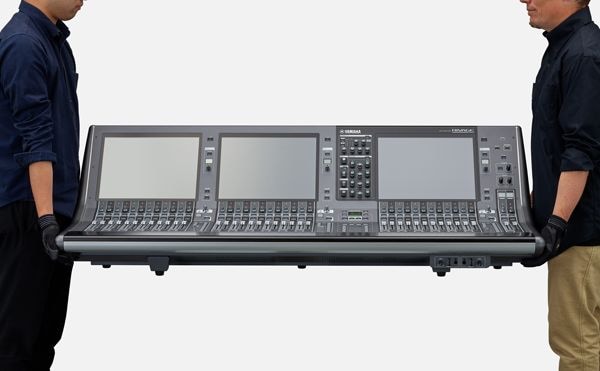 Although it offers heavy-duty performance and features, plus a comfortably spacious interface, the RIVAGE PM5/3 weighs surprisingly little. At only 42 kilograms (CS-R5)/38 kilograms (CS-R3) it can be easily carried and positioned by just two people. This impressive weight reduction has been achieved through state-of-the-art mechanical design and the use of a lightweight but extremely durable material.
Console File Converter Brings the Yamaha Family Together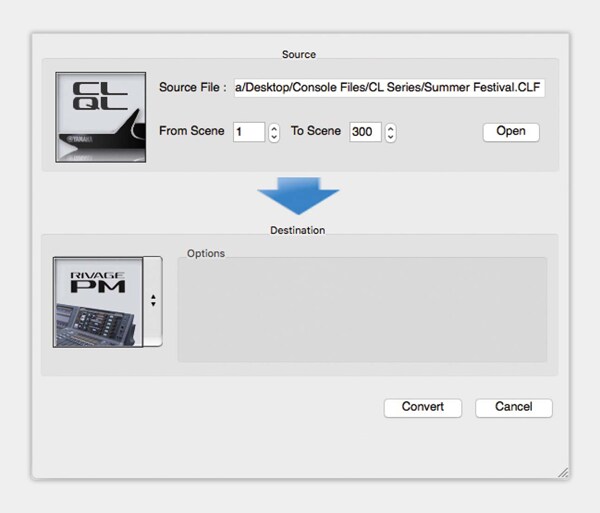 The Yamaha Console File Converter is an application that allows data to be shared between a number of Yamaha digital mixing consoles. User can share data between RIVAGE PM series, CL/QL series, PM5D, M7CL, and LS9 consoles, so data from one show doesn't have to be completely reprogrammed from scratch for the next, even if different consoles are used.
Two Convenient Approaches to Live Recording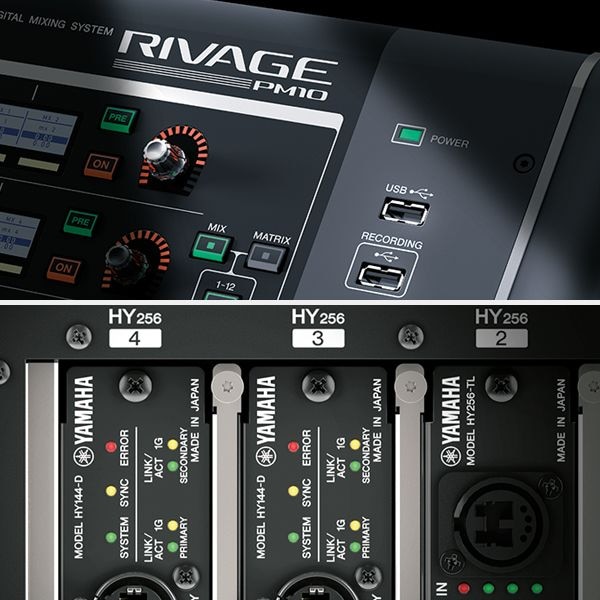 Professional quality live recording capability is becoming an essential feature in live sound consoles. In addition to convenient 2-track recording to a USB flash drive, the RIVAGE PM series supports multitrack recording via a Dante audio network to meet the widest possible range of serious recording requirements.
The 2-track USB flash drive recorder function directly records the output of the STEREO or MIX bus to the flash drive. Background music or sound effects recorded on the flash drive can also be assigned to any input channel for playback. Sample rate conversion is provided for both input and output, so the recorder function can be used without having to think about the system sampling rate. Data can be recorded to or played back from WAV or MP3 files, as required.
Multitrack recordings can be made to a computer based DAW via a Dante audio network. High-resolution recording of up to 128 channels (input and output) at 96 kHz is possible if the computer is equipped with a DANTE ACCELETATOR PCIe card (AIC128-D). With Dante Virtual Soundcard the maximum in/out track count is 64.
Multitrack recordings of rehearsals made in this way can be used for "virtual sound checks" when the performers aren't available. Input patching for all required channels can be switched in one operation for both recording and virtual sound checks. Recorder playback and stage input can even be smoothly combined when needed.
Additionally, firmware versions V5.0 and later allow you to use the Yamaha Console Extension to copy Channel Name and Channel Color to Nuendo Live and to operate transport controls and markers from the console, providing seamless connection between RIVAGE PM Series consoles and Nuendo Live.