Integrate Seamlessly with Barco Clickshare
Integrate Seamlessly with Barco Clickshare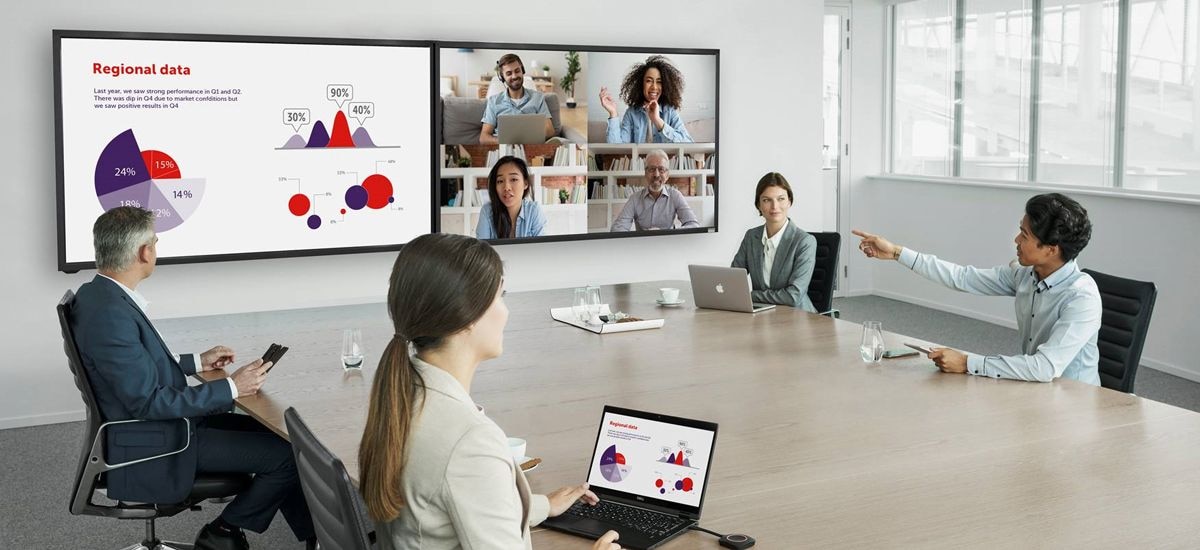 Barco's ClickShare Wireless Conference range of products work seamlessly not only with user's display and camera setup without the hassle of physically connecting devices using cables and adapters but also with Yamaha's conferencing solutions, which now includes ADECIA as well as YVC-200 Speakerphone, YVC-330 Speakerphone, and YVC-1000 Microphone and Speaker System.
Additionally, all-in-one camera, microphone, and speaker system, CS-800 is also confirmed the operation. Both Yamaha UC solutions and Barco ClickShare operate with all current UC platforms.
What Is Barco ClickShare
Barco is a global technology leader that develops a wide range of communication, display, and image processing solutions. Barco ClickShare revolutionizes workplace experience by facilitating wireless conferencing. Just bring your own meeting and start a videocall from your laptop with the Unified Communication platform of your choice. Automatically, you connect wirelessly to room cameras, speakerphones, sound bars for a more immersive meeting. In less than 7 seconds, you can conference, collaborate, and click with this secure, connected and cloud managed solution. Combining powerful remote communication with easy-to-use wireless collaboration, the conferencing experience is taken to the next level.
Why We Chose to Partner with Barco
We believe that the best digital collaboration tools require flexibility and adaptability to bridge the gap between users, so that meeting participants can connect from anywhere and in any type of settings. Our goal is to make this process as user-friendly and straightforward as possible. Barco's wireless conferencing solutions deliver a streamlined experience that brings teams together anywhere in the world. You simply plug in and join the meeting.
Integrate Seamlessly with Barco Clickshare