5 star review on High End Home Cinema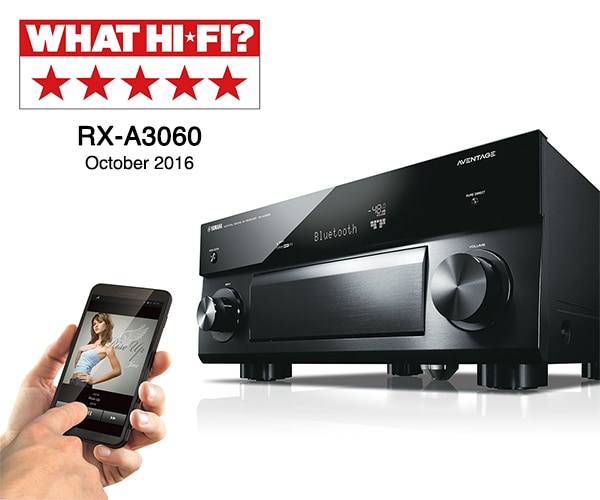 Yamaha's MusicCast RX-A3060 home cinema amplifier has just received a 5 star award in the latest What Hi-Fi magazine, the 40th year anniversary issue 2016. In the review they speak about the high end sound quality and flexibility the amplifier can offer as well as its excellent build quality. The price point demands quality and that's what the Yamaha MusicCast RX-A3060 can offer.
Oerhört högpresterande AV-Receiver inom AVANTAGE-serien. Stödjer Dolby Atmos® och DTS:X™ uppspelning med CINEMA DSP HD3. RX-A3060 erbjuder många enastående funktioner så som att den är expanderbar till 11.2-kanaler, har en 64-bit högprecisions EQ för YPAO, ESS DAC av extremt hög kvalité samt Zone 2/3 ljudprocessering.
Dolby Atmos® and DTS:X™ support
Dolby Atmos and DTS-X playback with CINEMA DSP HD3
Enhanced – a new cinema sound programme developed on the 30th anniversary of CINEMA DSP
AVENTAGE AV receivers: Designed to deliver the highest levels of audio performance
ESS SABRE32™ Ultra DACs for ultra-high sound quality
Aluminium front panel offers visual and aural benefits
Anti Resonance Technology (A.R.T.) Wedge helps to ensure that vibrations do not affect sound quality
Heavy legs to add more stability to the chassis
H-shape cross member frame and rigid bottom frame / double bottom construction
9-Channel powerful surround sound
--- 150 W per channel (8 ohms, 20 Hz-20 kHz, 0.06 % THD, 2-ch driven)
--- 230 W per channel (8 ohms, 1 kHz, 10 % THD, 1-ch driven)
--- 230 W per channel (4 ohms, 1 kHz, 0.9 % THD, 1-ch driven [European Model])
MusicCast for audio enjoyment in every room
Wi-Fi Built-in and Wireless Direct compatible for easy network
Bluetooth® for wireless music streaming and Compressed Music Enhancer for Bluetooth
AirPlay®, Napster®*, Spotify*, JUKE* music streaming service and AV Controller App
*Music service availability varies by region
DSD 2.8 MHz / 5.6 MHz, FLAC / WAV / AIFF 192 kHz / 24-bit, Apple® Lossless 96 kHz / 24-bit playback
High-resolution Music Enhancer further heightens musicality from the original content
Gapless playback compatibility allows play without interruption
HDMI® (8 in / 2 out) 4K Ultra HD Full Support with 4K/60p, 4:4:4, HDCP2.2 (7 in / 2 out), HDR Video and BT.2020 pass-through
Heavy legs to add more stability to the chassis
YPAO™-R.S.C. sound optimisation with 3D, 64-bit precision EQ calculation and angle measurement
YPAO Volume to ensure natural sounds even at low volume
Zone Extra Bass for more powerful bass sound in another rooms (Zone 2 and 3)
Zone Volume Equalizer for optimum sound balance in another rooms (Zone 2 and 3)
Virtual Surround Back Speaker for playing 7.1-channel content with a 5.1-channel system
Yamaha video processing optimises video content
Advanced HDMI Zone Switching allows unprecedented AV switching to multiple zones
Versatile Zone control such as Zone 2 / 3 / 4 on / off, Zone GUI and Party mode
Detachable AC power cord for easier installtion
ECO mode operation for about 20% less power consumption
AVENTAGE series with MusicCast
Färgerna och finishen som visas kan avvika från färgerna och finishen på den faktiska produkten.