Yamaha HS3/HS4 High-Quality Compact Studio Monitors For The Uncompromising Creator
Yamaha HS3/HS4 High-Quality Compact Studio Monitors For The Uncompromising Creator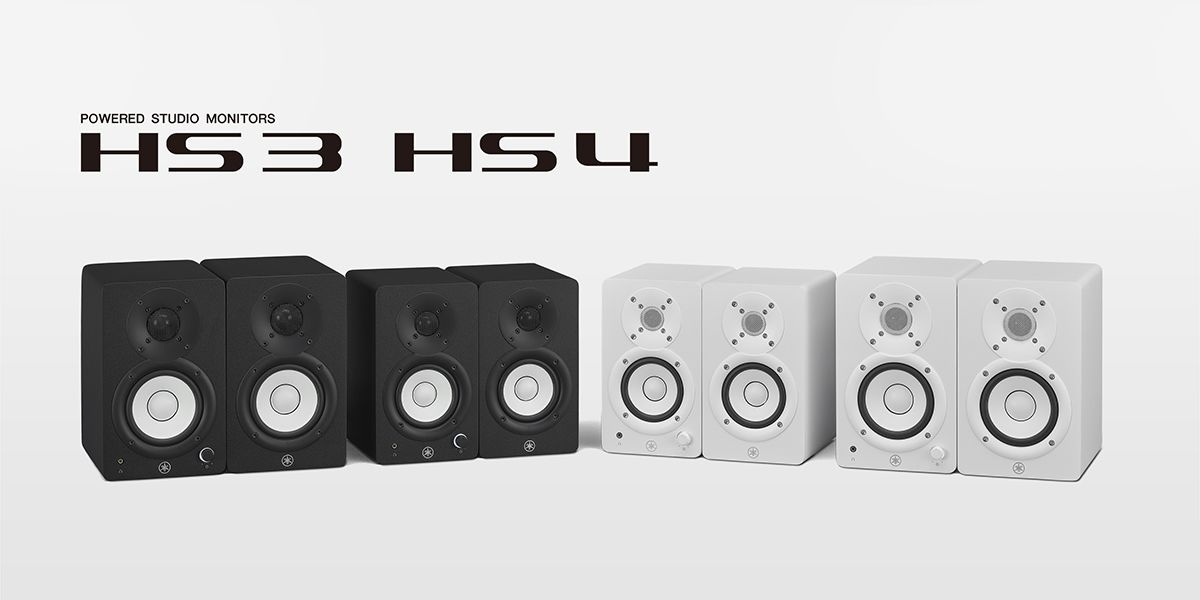 November 15, 2023. Shizuoka, Japan – Yamaha Corporation is pleased to announce the HS3 and HS4, new models in the HS series of studio monitors.
HS Series speakers have become the standard in studio monitors, trusted for many years by the world's top audio engineers, producers, and artists. Now Yamaha has redefined their essence in a compact housing. The HS3 and HS4 are powerful tools to help create a wide range of audio content—from music production to video editing—that meets the expectations of creators who have limited space and need to keep the volume down but do not want to compromise on monitoring quality.
The HS3 and HS4 continue the design philosophy and know-how of previous Yamaha studio monitors. No effort has been spared in the pursuit of the optimal product, and the resulting speakers comprise carefully selecting parts such as a high-performance class-D amp, a highly resilient cabinet, and woofers and soft dome tweeters that deliver a sound that is faithful to the source despite their small size. They also feature proprietary "Twisted Flare Port" technology that reduces air turbulence noise in the bass reflex port, providing clear and accurate bass. That's the secret to why the HS3 and HS4 deliver outstanding resolution, sound image, and depth, with a flat response across all bandwidths without any coloring of the original sound.
The HS3 and HS4 are equipped with ROOM CONTROL and HIGH TRIM functions that allow you to make adjustments to achieve the ideal sound for any environment, such as reducing the unneeded, exaggerated low-end that can often occur when speakers are placed next to walls.
The rear panel of the HS3 and HS4 is equipped with combination XLR/TRS phone, RCA, and stereo mini connectors, allowing you to connect to a wide range of professional and consumer equipment such as computers, audio interfaces, audio mixers, and electric instruments. The most commonly used features—power button, volume knob, and headphone connector—are located in the front for easy access.
The compact size of the HS3 and HS4 was made possible thanks to the highly efficient class-D amp. Using one amp for two speakers has enabled us to both reduce the weight of the speakers and simplify the cable connections. They take up little space even in a small bedroom studio, and are easy to take with you on the road.
"We are pleased to announce the addition of a new model to the HS series," says Yoshiyuki Tsugawa, Senior General Manager at Yamaha Creator & Consumer Audio Division. "We look forward to supporting the creative work of more people than ever before by offering even more ways to use the HS Series' renowned high sound quality in a compact chassis."
Yamaha HS3/HS4 High-Quality Compact Studio Monitors For The Uncompromising Creator