Biography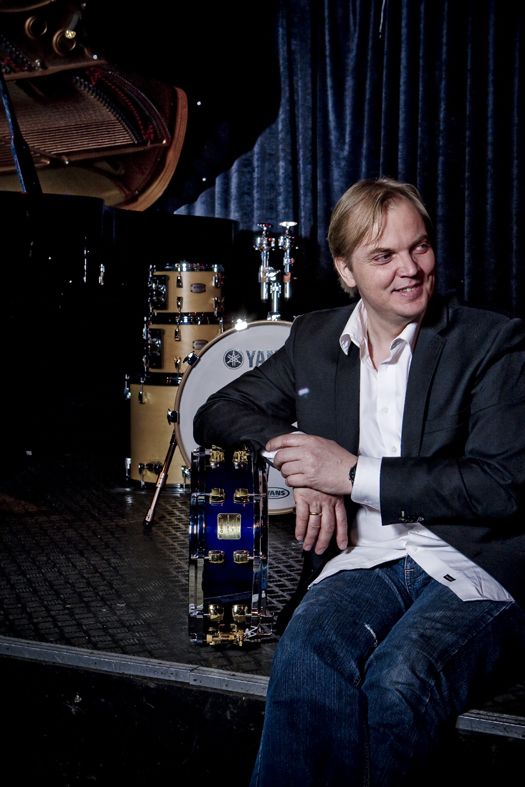 Erik Smith is one of Europe's most respected and versatile drummers. From his base in Oslo, he works in all imaginable genres of music from jazz via big band to fusion, pop and rock.
He is a long time endorser of Yamaha Drums, Vic Firth Drumsticks, Evans Drumheads and Istanbul Mehmet Cymbals. Erik has got his own Signature Drumstick manufactured by Vic Firth. Yamaha has launched the Erik Smith Signature Snare drum in the spring of 2009 and Istanbul Mehmet cooperated with Erik on two signature cymbal models; the 22" Erik Smith Swish Ride and the 15" Erik Smith Versa Hats.
Erik is a pioneer doing clinics and is known for his musical and virtuosic style of soloing. He is the first Norwegian drummer to tour extensively in support of his endorsing companies to inspire and teach. He has done clinics, masterclasses and workshops in Scandinavia, Germany, USA, Turkey, China and South Africa.
In 2003 he performed at the Yamaha Groove Night in Los Angeles. In 2004 he had a clinic at the world's largest and most prestigious drum and percussion event PASIC in Nashville. He was invited back for PASIC 2008, in Austin TX to do a clinic along with a.o. Roy Haynes, Ed Soph, Dafnis Prieto, Chad Wackerman and Steve Ferrone. 2008 also saw him perform at the Yamaha Groove All Stars concert in Frankfurt with Tom Brechtlein, Rick Marotta, Tommy Aldridge and Wolfgang Haffner.
Erik teaches drum set at the Norwegian State Academy of Music (Norges Musikkhøyskole) and privately when his schedule permits. He also does clinics, masterclasses and workshops for big bands, schools, universities and private firms.
He is a recipient of the Spellemanns prize (Norway's "Grammy") and has his own regular column on drumming in Norway's leading music magazine, Musikkpraksis.
~
Erik has worked with the majority of artists and entertainers on the Scandinavian scene as well as many well known artists passing through Norway including Art Garfunkel, Michael Bolton, Neil Sedaka, Josh Groban, Donna Summer, Carlene Carter, Engelbert Humperdinck, John Miles, Boney M, Johnny Logan, Lisa Nilsson and Randy Crawford.
In the jazz idiom Erik has provided the groove for among others Frank Gambale, Bobby Shew, Andy Sheppard, Eddie Daniels, Niels Landgren, Oslo Groove Company, Norwegian Radio Big Band, Jens Wendelboe Crazy Energy Big Band, EBU Jazz Orchestra, Antonsen Big Band, Bart Van Lier, Phil Woods, Putte Wickman, Ed Palermo, Django Bates, Bob Mintzer, Hector Bingert, DeeDee Bridgewater and Gerald Wilson.