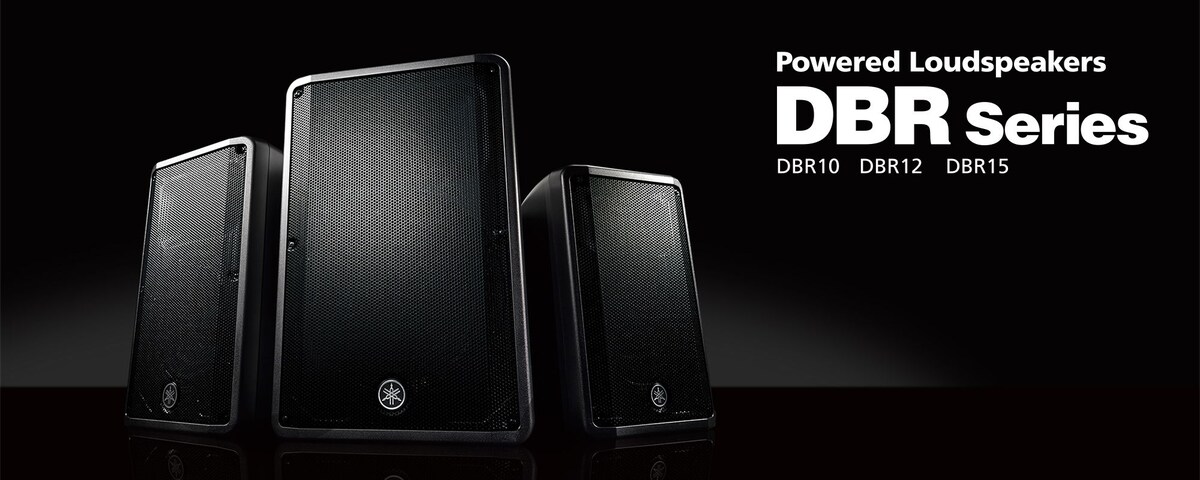 DBR series
Powered Loudspeakers
POWER TO PLAY
Wherever your music may take you, DBR Series loudspeakers are up to the task of delivering powerful, high-quality sound with an un-matched economy of transport and setup time. The most portable powered loudspeakers Yamaha has to offer, the versatile DBR Series harnesses the same state-of-the-art Yamaha DSP and amplifier and speaker technologies developed for the professional DSR Series and DXR Series lineups, ensuring high-resolution sound at any output level. Comprised of 10", 12" and 15" models, each DBR loudseaker is housed in a newly designed, durable, lightweight cabinet optimized for FOH sound, floor-monitoring and even rigged applications. Whether you're powering your band's live performance, DJ-ing a party, or MC-ing an event, be prepared for DBR Series speakers to take your performance to the next level.
DBR10
10" 2-way Powered Loudspeaker
The DBR10 is the most compact model in its series and in its class. Capable of delivering a maximum SPL of 129dB from its compact enclosure, the DBR10 can be used as a utility speaker in a variety of environments.
DBR12
12" 2-way Powered Loudspeaker
The DBR12 represents a perfect balance of size and performance, with 1000W of power and outstanding resolution at any output level. Ideal for front-of-house, floor monitoring applications or even the stage side fills, the DBR12 is an ideal choice for a wide range of applications.
DBR15
15" 2-way Powered Loudspeaker
The DBR15 achieves best-in-class SPL of up to132dB and delivers the lowest frequency in its lineup. The DBR15 delivers outstanding performance for the main front-of-house sound for the live performance or DJ events that require highly prominent low and more power.
Färgerna och finishen som visas kan avvika från färgerna och finishen på den faktiska produkten.