Shell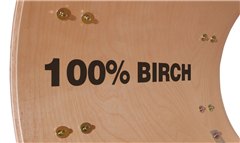 The shell is a key factor in a drum's ability to "rumble," or resonate. Accordingly, the Stage Custom employs 100% birch - a classic in the realm of high-class drum kits. Moreover, with its six-ply structure the Stage Custom accurately conveys the vibrations produced at the impact surface, achieving performance that overwhelms anything in its class.
""Air Seal System"" Technology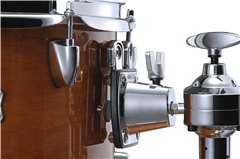 At Yamaha, the process of manufacturing drum shells begins with selection of the materials. Select woods are cut into sheets with precision cut diagonal ends. The plies are fit into a form and hammered into place by a highly skilled craftman. The angled ends allow the craftman to finlely adjust the ply length, thus maintaining proper tension. Ply joints are staggered by 120-degrees and hammered into place in the same manner. An air bag placed inside of the shell and inflated at high-pressure puts even pressure on the shell's inner surface creating a perfectly round shell with uniform thickness and excellent durability. This is the Air Seal System, a process that has been in use at Yamaha for over 40 years.
Set Configurations
A pipe post stabilizer on the pedal side of the bass drum provides height adjustment and positions the beater so that it strikes the center of the bass drum batter head. A memory clamp on the pipe slides into a special receiver on the bottom of the bass drum, allowing for quick set up and exact height retention.
Die-cast claw hook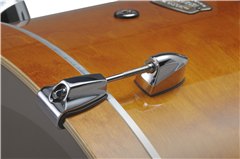 New Stage Custom adopts Die-cast claw hooks with rubber insertion plates to reduce noises.
BD leg with stopper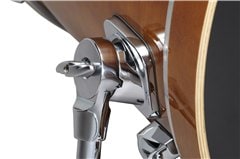 Bass drum legs of Stage Cutsom have the stoppers to make setting easier.