Biography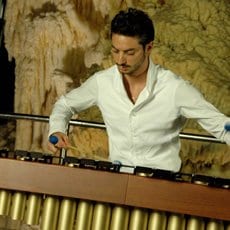 Born in 1987, Claudio Santangelo belongs to a family of fourth-generation percussionists. Starting his musical studies at the age of six by his parents, both Conservatoire percussion teachers, very soon Claudio showed a great technical and musical mastery.
A child prodigy, for his bravura on the xylophone and with pieces of remarkable technical difficulty for his age, he won over numerous Juries of National and International Competitions, winning a number of First Prizes. In 1995, he received the "Silver Medal" from the President of the Republic, Oscar L. Scalfaro, as a special acknowledgment of his talent.
At 13 years of age, the Yamaha Foundation awarded him a prize in the edition dedicated to the best Italian percussion students. In 2005, in a duet with his sister, Francesca, he performed at the Paris Superior Conservatoire during the "perKumania" Festival in the "Young European Interpreters" Exhibition.
He has followed Master Classes with: Ney Rosauro, Nebojsa J. Živkovic, Marta Klimasara, Michael Burritt, Eric Sammut and Kevin Bobo and at the age of 18, he recorded the Concerto for Marimba and Orchestra by T. Procaccini for EDIPAN with the Ukrainian National Symphonic Orchestra and pieces for Marimba, Vibraphone, and Piano in a duo with the Authoress.
In 2011, he presented his first CD in Lithuania, "Music for You", which has received much admiration even in the United States, where it is transmitted regularly on the Percussion Radio Channel. Due to the wide variety of repertoire performed in his concerts and in particular the bravura highlighted in every performance, he gains wide public and critical success everywhere.
Despite his youth, Claudio is invited to carry out recitals and master-classes in: France, Croatia, Spain, Lithuania, Poland, Germany, Romania, Bulgaria, China.
In 2011, he obtained his diploma with full marks under the direction of his father, Antonio, at the "G. B. Pergolesi" Conservatoire in Fermo and won the "Arts Prize", a national competition organized by MIUR, awarded to the best students at the Italian Conservatoires.
He has composed numerous pieces for marimba, vibraphone, timpani solo, and a Concert for Marimba and Orchestra published by "Italy Percussion Edition".
His compositions are easy to listen to and they present remarkable technical difficulties, much appreciated by performers. In 2012, in the "Culture Seventh", organised by the Ministry of National Heritage and Culture, he made a DVD of the Concert Live, dedicated to the tragedy in Japan.